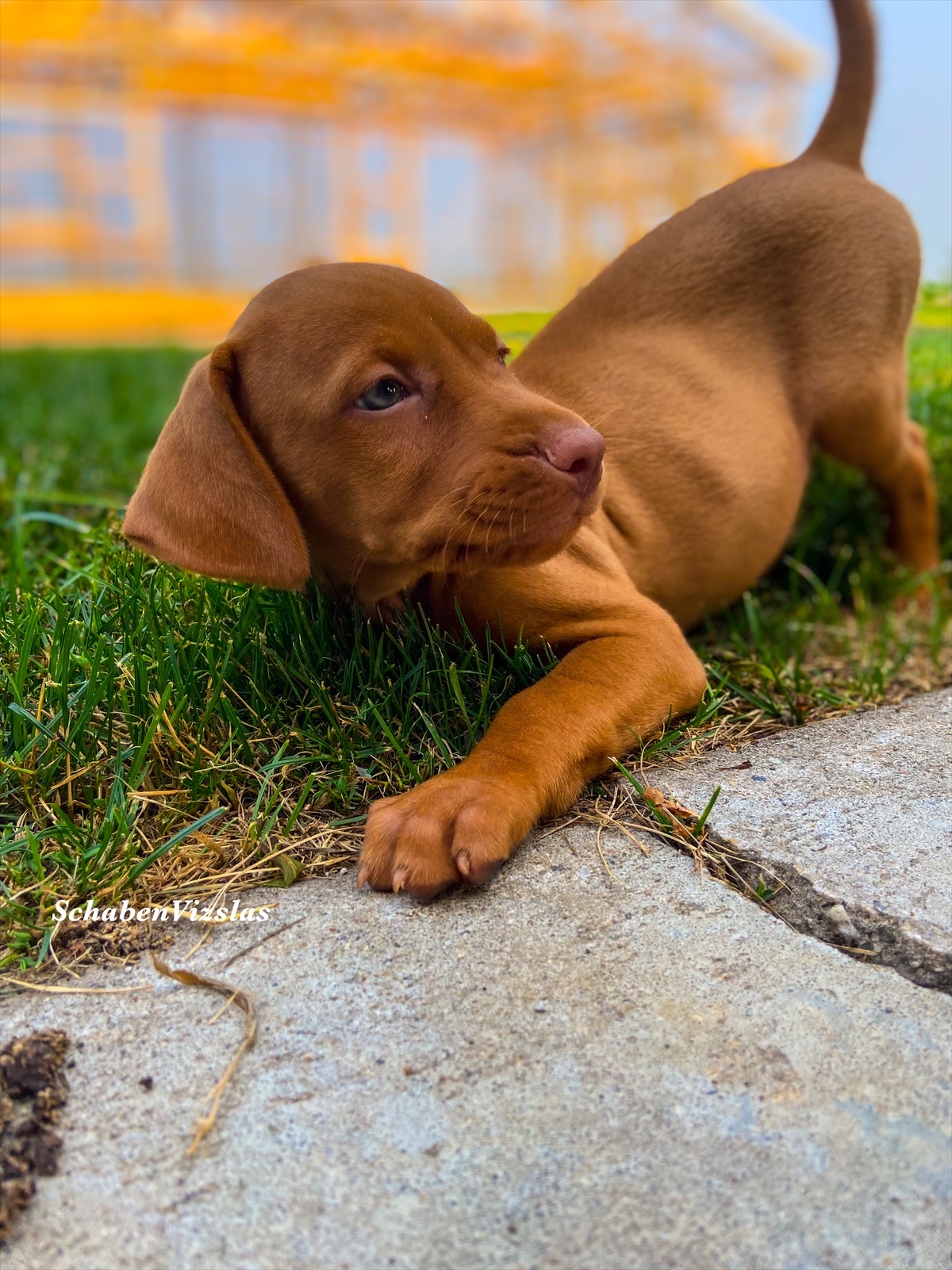 Here is what people who have worked with us before had to say!
If you have added a puppy to your family from ours, we would love to know how everything is going! Shoot us an email or text!
---
(Copper is a puppy from Daisy and Clifford)
Copper
Copper was born for adventure! Most of his days include long hikes, runs, and games of fetch. Many describe him as happy go lucky, smart, affectionate, curious, tenacious, protective, goofy, and dashingly handsome!
Copper is eager to please and makes friends easily. He often learns tricks within a couple of days, especially when it involves treats! He stays close to his owners when off leash and is reliable with his recall. He is very gentle with children and small dogs, but can hang with the big dogs too!
Although he is loved by many of his dog park friends, Copper is oftentimes a free-spirit. If he isn't challenging the other dogs with his "catch me if you can" game, he can be found in his own world, gazing up at the sky, ready to chase anything that moves.
Copper likes to stay busy and hates being left out of the fun. This year he will accomplish his first race at the tails n' trails 10k in Omaha! He will travel to Colorado to explore the rocky mountains, and learn new commands for mountain biking next to his dad!
Copper was born for adventure, but he lives for the cuddles at the end of the day 🧡 He is SO loved!
---
Hi –

Our Vizsla Zoe is now 5 years old and still "our baby". I got Bryce Schaben's name from the Iowa rescue organization. I figured someone
involved in breed rescue must be legit. I would highly recommend Bryce and his family.

I also checked several of Bryce's references and communicated with him frequently
via telephone and email. Since Bryce has children our Vizsla was well socialized when we
got her as a pup. She loved playing with all the neighborhood kids. She is high energy
and will play fetch 24 hours a day. After we had our Vizsla for about two years, we
were in the vet for a checkup and this lady had two Vizsla's with her. She asked me
where I got our Vizsla and was familiar with Bryce and said he had a good reputation.
(She was worried that we may have purchased from a puppy mill or something).

Training our Vizsla was easy because we also have a Weimaraner. She just
watched the routine and figured out very quickly. Did we have accidents sure, but
overall intelligent breed who gets it fast.

The Vizsla is a perfect size, ours is 50lbs so big, but
not so big that she knocks over stuff off coffee table etc. I would
purchase from Bryce again. We had our puppy shipped to us via airline so was extra
worried about everything going ok and he took time to deal with all my questions etc.
Our Vizsla has great personality, outgoing and always looking for fun. Good luck to you!
Would definitely recommend the Vizsla in general and Bryce as a breeder. Feel free to
reach out with any additional questions or anything we can do to help.

Best Regards –
Debbie G
---
Hi guys,
I wanted to shoot you guys a quick note about our pup, Oy Vey, that we picked up from you guys over Easter about a year and a half ago.
I've been taking her out pheasant hunting here in Colorado about half a dozen times this season and she's had a blast. She was flushing birds up, but usually by tripping over them instead of actually seeking them out. So, she wasn't pointing, but I couldn't complain much– a "bad" day of hunting is still a darn good day, even if Colorado pheasants are hard to find when you're hunting solo.
I took her out again last weekend and in the final field of the afternoon, something clicked. She was catching scents in the breeze, making a hard 90 degree turn into the wind, going 5-10 yards and holding a rock solid point. She found 3 birds (2 hens and then the rooster in the attached picture) and she hunted like an absolute champ. Considering I've only hunted with flushing dogs since I was a kid, hunting this field with Oy was like cheating, I don't know that I've had so much fun.
I won't drag on too long, but I wanted let you guys know how impressed I am with Oy. Sure, I've trained her some, but it's 90% DNA and 10% training as near as I can tell– and you folks produced a fine dog. She's great in the field and at home– we wouldn't trade her for the world.
I hope all is going well on your end. Feel free to share the picture if it's of any help to you guys– but otherwise I just wanted to say thank you and happy holidays!-Matt S.
---
Hi Bryce and Carrie!
Just wanted to let you know things are going very well. We absolutely love the new addition to our family. She is doing great. She learned the command the "sit"command the very first day we brought her home. She hasn't had any potty acciedents since early last week! she also plays fetch already and 90% of the time brings it back! We're so impressed! She is such a good natured pup, we are so happy with her! Thank you so much for giving us the oppurtunity to have her! We'll keep you updated and send pics as she gets older.
Thanks again!
Chad and Kris.
---
Hi Schaben family!
Hope you are doing great!
What a short… and somehow very looooong four months it has been. Our female puppy, Abbey, will be six months in a week or so and we can't imagine life without her. She has grown up so quickly – as you will see in the attached pictures. She has such a friendly, outgoing personality and absolutely loves meeting other dogs – especially BIG dogs! She always picks out the great danes or such to play with! And let's not mention her love for water. Are you guys sure she doesn't have any aquatic genes in there somewhere? She adores water; she would swim and fetch and play with other dogs in the water non-stop for hours.
In short, she is a wonderful family member and we love her to bits! Ane and I would like to get her a little brother in a couple of months, maybe early next year.
In the mean time, hope you enjoy the pics of Abbey.
Regards, Schaun & Ane
---
Dear Carrie and Bryce,
We just wanted to send you a note to tell you how happy we are with the newest addition to our family, Mojo. He is taking Lake Tahoe by storm, in such a dog community any new addition is obvious but Mojo is such a beautiful little guy that we can hardly go anywhere with him without adoring fans fawning over him. We have even given your information to a couple of people who may be interested in buying a Vizsla puppy. We took him to the vet on Friday and he is in perfect health. It is obvious already how smart and outgoing he is and we are excited to watch his personality and skills develop. We will send you some pictures when he gets a bit older. Thanks so much.
Jackie and Mike
---
Hello Bryce,
I bought a male puppy from you in January just wanted to let you know what we named him. His name is pepper and he is doing really well. I have had him out 2-3 times a week in the CRP land and just let him play. He pointed about 2 weeks ago on accident on a pheasant. It scared him and me when it flew out when I came to see what he was doing. We all danced around and he thought it was a game.
He is doing really well with house training but if he is not #1 for attention then he drops and pees right away in front of us to get our attention. LOL.
I am going to take him to Thayer Iowa April 22 for the field trials that are there and let him see what is going on. I really want by fall to have him going to them and hopefully getting is JH tital. He is a very nice look dog with very good movement.
I am getting a pidgeon here this week to help him find it in the CRP land and hopefully he will get better at pointing at it. It will be a game in the beginning and hopefully he will be excited about finding it after a short period of time.
The kids love him and he always sleeps on the couch right next to the kids. I am hopefully I can get some pictures of him soon pointing at a bird so I can send it too you.
Again thank you for this wonderful puppy.
Kim Miller Keystone Iowa
---
Hermosa is doing great! she's had lots of experiences — Lowe's, home depot, pet-smart, playing with all of her doggie cousins… she and spokes are getting along very well. it's great to see them play and chase each other. her housetraining is coming along well too.we've been spending lots of time at our new house, working on various projects. the pups are very well-behaved while we're there and are getting used to their new surroundings. little hermosa is such a great dog — we really love her! a link to more pictures is attached and we'll keep photos and updates coming!
thanks again!
kerry and spencer
---
Carrie and Bryce,
Just wanted to let you know how pleased we are with Bella. She is absolutely wonderful … smart as a whip, well behaved, loving, and beautiful. She is already sleeping through the night in the crate without fuss or mess and rings the bell when she needs to go outside. She is not yet so keen on my twice daily 45 minute walks but adores sleeping on my lap as I work on the computer.
You have a good line with Maggie.
Thank you so much!
---
Bryce, how's things been for you and your family. Hopefully all is well. I just wanted to let you and Carrie know that Boomer has been a joy to have as a new member to our family. He has such a fun personality and a loving disposition. He is a very smart dog and the below picture is showing him on point on a live bird. This was only his second encounter with live birds and he pointed the week before on his first encounter with a live bird. He's been a joy to train and I've already received several compliments from some of my friends who have excellent hunting dogs who say that I have a really good pup who has a really good nose. I just wanted to let you guys know that we are very pleased with Boomer and he has exceeded my expectations as a hunter. He's been a joy to have and I'm glad that we choose you to purchase him from. I'll send you a photo of what I have on my desk top.
Take care and tell the family hi,
JQ
---
Hi Bryce and Family,
I am sorry it has taken so long to let you have an update on Earl. Earl has adjusted very well to his new family. He loves Harley (Dalmatian who is 13) and loves his family and Preschool Family. He is an absolutely wonderful dog. He has the best temperament with the babies on up to the big kids he knows he can run with and be wild. He loves his 3 mile a day walks. Hes in shape I don't know about his parents! He was a bit hesitant on the swim thing but took to Lake Tahoe in no time. He prefers sleeping on the bed with us at night and waits for us to doze off before ever so quietly sneaking up on to the bed. We call him stealth dog. Even though he is not a hunter by nature he is. He is very quiet when he is into something he shouldn't be, usually the counters retrieving the jalapeno tortillas, or his favorite the cube of butter. He stalks the birds with his refined innate traits for hunting, and then prefers to just flush them out of the bushes. He crosses back and forth in front of us during our walks to make sure the path is clear. He is the best dog…Thank you. We just love him. Even Harley whom I thought would have a hard time lets Earl curl up on him at night. You raise beautiful dogs. He is gorgeous. We will be contacting you for another some day soon. Harley is getting older and we don't want Earl to be alone…
---
Bryce and Carrie:
This is Thad from Winona MN. I have Sofi, who is one of Gracie's pups from her January 2006 litter. I have not given you two an update for a while. I wanted to let you know that Sofi is a wonderful dog. She has one of the best dispositions of any dog I have been around. She was socialized well and had a ton of exposure to just about everything as a pup. I was able to move to the county, so she has a ton of area to run and get plenty of exercise daily. She was hunted last year and we got out about 45 days and she had about 175 wild birds shot over her. She was trained by a pointer trainer/ friend of mine. That took about 10 weeks. She was reluctant to retrieve last year, but decided to start this summer and then do it really well. She has a nice point and holds it well. I did not train her to be steady to shot or flush, but she now retrieves to hand and responds well to commands. She is spoiled rotten by Heather, but not me. Well not as bad. I have some friends with a male vizsla (three months younger than Sofi) named "Gus." They had him for about 6 months. He came from a Breeder in WI. Long story short, an unexpected job change brought them to another city and a fast running, in need of plenty of exercise type of dog was not going to work well. Sofi and Gus grew up together, so I was asked if I was interested in Gus. I said yes on a trial basis. That lasted about one hour, before I took Gus from them and Sofi now has a brother. That has been wonderful. Both dogs love to run and entertain each other. Gus is at the trainer right now, but I expect him back in about two weeks. He is in Kansas, being trained by my friend named Rex (believe it or not)
Thanks for taking the time to care for the breed. They are special dogs and I hope we can keep the breed as it is, without to much influence from the media and other outlets that tend to flood rescues etc.